Connected Field Service Leads To Brilliant Customer Experiences
Customer Experience is one of the most influential factors in stimulating customer loyalty and retention. Market research studies reveal that it costs five times as much to attract a new customer as it does to keep an existing customer satisfied. If you want to get the previously existing customers back, it gets 67% more expensive than keeping the customer loyal.
Businesses have spent almost a decade designing customer experiences (CX) that are more worthwhile than the features and pricing of the products they produce.  From customer service to product quality, brands across all segments are catering to customer sentiment with tremendous insight into how customers feel about them and their competitors.
By applying technology with a desire to keep down internal cost, increase process efficiency, and boost information accuracy, field services can give their brands' customer service a competitive edge.
The global field service management market size was valued at $3.12 billion in 2018 and is projected to reach $10.81 billion by 2026, growing at a striking CAGR of 16.9% from 2019 to 2026 with IoT as the main driver.
Even in organizations that appear to be streamlined and advanced, field service can be a let down when they run on broken, manual processes that deliver consistently wrong information and increase costs – leading to poor staffing coordination, long response times, delayed problem resolution, and low levels of customer satisfaction.
Companies like Microsoft, for example, offer Connected Field Service (CFS) offerings that transform the customer experience as well as the effectiveness and productivity of field service operations. Built on time-based, self-learning, and predictive technology, their configurable solution automatically schedules and optimizes work based on each organization's unique requirements and maintains a real-time view of the field.
Cloud of Things is approaching the CFS market with a recently announced IoT-based solution called DeviceTone IoT Suite, with a Ready-to-Run, Plug and Play solution that simplifies the process of creating connected products, that send data to local or cloud-based applications, making those products "smart" and enabling digital CFS. Cloud of Things recently announced a partnership with Microsoft, and their solution is available on the Azure IoT Marketplace.
"We have only just begun to experience the benefits of Connected Field Service," said Avner Ziv, CEO of Cloud of Things, a company based in Boston and Tel-Aviv. "Successful IoT implementations have been incredibly challenging to deploy, given the many requirements at the edge of the network, where integrating an end-to-end connectivity solution takes tremendous effort and knowhow, and setting up hundreds or thousands of connected products has included a very manual process, subject to mistakes, misconfigurations and security risks. Working with our partners, we have developed affordable, multipurpose devices which connect to any product and easily turn it into an IoT device, as well as a powerful, small form factor gateway that collects information from those local devices and sends it securely into the cloud."
Earlier this month, Cloud of Things co-delivered a webinar with Azure on their new suite of automated, simplified IoT products and services, including a starter kit priced at $99 so developers can spin up a production-grade, prototype of their choice, in less than a week.
"There is no project risk when a product manufacturer decides to roll out CFS recurring revenue services along with their products, which benefits their customers and their bottom line," Ziv said. "They can land and expand with a working prototype that includes the entire management dashboard, then can scale to production and grow."
"By using various smart agriculture solutions, farmers have better control over the process of raising livestock and growing crops," Ziv said, "including lighting in greenhouses, watering equipment, tractors, and more, which can now be serviced remotely, or can be serviced by a technician who has more data on when equipment should be regularly maintained or fixed when that equipment breaks."
Ziv also points to utility management, where assets are better optimized with enhanced insight, more engineering efficiency, and increased cybersecurity resilience.
"We have done large smart meter projects," Ziv said, "as utilities and energy providers are working to reduce costs while providing hyper-personalized customer experiences and driving sales up, being connected to the demand coming from their customers, and also helping their customers keep costs low. With a fully streamlined CSF solution, Cloud of Things clients can offer digital metering for electricity and water and enables power companies to manage their equipment and maintenance far more efficiently."
Connected Field Service for healthcare enables manufacturers of equipment for hospitals and clinics to provide more cost-effective service. "COVID19 has taught us a lesson of being able to do more from our homes. Equipment provisioned to patients for telemedicine when healing at home can also be connected and managed more efficiently." Ziv said.
"Equipment uptime is vital to optimizing factory output in manufacturing settings. But that is true not only for factories but also for different businesses that rely on the entire operation of specific devices, like a pizza oven in a pizzeria or a coffee machine in a coffee shop," Ziv said. Deploying CFS creates value for the vendors who sell the equipment, and the factory operations teams on site. "With digital instrumentation, it is possible to monitor anomalies, errors, and predict and schedule maintenance. When equipment is not running at normal parameters, service requests are triggered to ensure technicians are dispatched for swift repairs if remote service is not adequate."
One of the largest CFS projects completed by Cloud of Things is the connecting of 20,000 smart LED streetlights. Outdoor lighting is among the most significant infrastructure assets owned by municipalities and utilities. "Once cities have enabled connected lighting infrastructure, it can serve as the foundation for a wide range of other Smart City applications that improve safety, efficiency, and quality of life," Avner said.
Originally published on Customer Magazine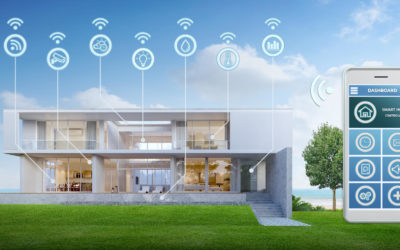 This week, Cloud of Things will be demonstrating the combination of our DeviceTone fully managed IoT cloud services gateway based on DSPG's ULE module at the International Security Conference & Exposition, also known as ISC West, which runs from July 19-21 at the Sands Expo in Las Vegas.
read more