Hortica Comes out of Stealth Mode to Reveal Connected Cultivation Greenhouse for Medical Cannabis Leveraging Edge Compute and Advanced Automation
After years of development and testing, one of Israel's most interesting AGTech startups, Hortica, announced this week they are coming to America to build connected, automated, large-scale precision growth facilities that have proven to produce the highest quality cannabis for medical products.
Leveraging their technology, which provides everything required to plant, cultivate, grow and harvest any type of high-end, organic plants with unprecedented yields and consistent, predictable characteristics, the founders of Hortica are focusing on any number of varieties of cannabis which are becoming increasingly legal to grow and distribute in the U.S. and elsewhere as more healthcare organizations and professionals prescribe cannabis for pain, depression and other conditions.
Precision agriculture has been envisioned and is being rolled out across many categories of farming, but until recently, the extremely precise application of growing extremely valuable plants in controlled facilities leveraging edge-cloud computing and A.I. has only begun to emerge.
Edge computing, and use of the Edge model enhanced with a range of sensors, is rooted in the solution Hortica, an Israeli innovation company, has created, working with two IoT technology companies based in Israel and the U.S. Hortica announced this week they would be building and operating state-of-the-art growing facilities in the U.S. in 2020 and 2021, dedicated to the connected cultivation of pharmaceutical quality medical cannabis crops.
Their solution, which includes growing trays specifically designed for cannabis growth, includes a variety of sensors from AES (through that partners' minIoT range) and edge-cloud connectivity, monitoring and maintenance software from Cloud of Things, will be one of the first in the world to take full advantage of Edge-Cloud computing approaches, including real-time control systems and remote management proven to improve quality, yield and consistency, while reducing operating costs and risk.
Hortica will also collect and analyze extremely granular data generated by sensors that measure soil elements, moisture, temperature, humidity, nutrients, and with that data influence adaptation based on the precise variety of the crop being grown and scheduling from seed to harvest. Data analytics will be done at the edge for some purposes, and in the cloud (running on Microsoft Azure) for other purposes, with A.I. and machine learning important aspects of the automated system.
Transforming information into knowledge-enabling, evidence-based decisions is at the heart of precision agriculture, whether providing decision tools for cultivators or driving robotic process automation.
As a producer of high-value cannabis, Hortica chose to use an Edge to Cloud approach as it pushes computation, networking, and storage to the edge of the network to enable a sufficient QoS for computationally-intensive, latency-sensitive, and bandwidth-demanding services.
As more states in America legalize medical marijuana, many with heavy regulations on how a patient can qualify and receive a prescription from a licensed provider, after growing in value to nearly $12 billion in 2018, industry analysts forecast the medical marijuana industry to be worth anywhere from $30 billion to $66 billion over the next five years.
Hortica has been actively working with two IoT companies in Israel, Cloud of Things (developer of DeviceTone – IoT Suite) and AES (developer of minIoT), on the full-stack solution which makes it possible for growers of cannabis and other medicinal plants to supply organic, safe, consistent and standardized crops to patients, clinical trials and pharmaceutical industry. Hortica will be building its first full-service facility in the fourth quarter of 2020 in Oklahoma, followed by a second in California in 2021, when the company also intends to expand in Israel and Africa.
This complete "growth platform" includes the construction of the indoor greenhouses, mobile cultivation equipment, a number of extremely sensitive sensors measuring everything from light, moisture, temperature, humidity, soil composition, nutrients, and more, and reporting in real-time using a control system made possible in part by AES's minIoT electronics to Cloud of Things' DeviceTone IoT Suite running on Microsoft's Azure cloud platform.
Coming out of stealth mode this week, this niche-focused ecosystem is moving from their labs in Tel-Aviv, where Hortica has been creating and testing the Phase One solution.
"On our journey to bring the Industrial Revolution 4.0 technology into precision agriculture, we have created a true alliance of professionalism and comradery with AES and Cloud of Things," said Dr. Yaron Penn, CO-CEO of Hortica. "Our unique platform introduces a disruptive business model to the Medical Cannabis market called 'Grow As A Service,' elevating cultivation to the level of production, customizations, and integration of exceptional existing solutions already developed by AES and Cloud of Things. Partnering with them enabled the realization of our dream within a short 'time to market' and with minimal costs."    
The market for medical cannabis is skyrocketing in North America and globally, but growth is constrained by the lack of high quality, repeatable, and predictable crops. Historical challenges include:
Pathogens, pesticides, and contaminations (crops worth hundreds of millions of dollars are destroyed due to contamination)
Lack of Quality Control and Risk Management (until now, it has been almost impossible to implement proper Q.C. and R.M. protocols)
Production in Cycles (before Hortica, it has not been possible to produce crops at a constant factory-like pace)
Rising operational costs (the increasing cost of energy has been devastating to the cultivator's business)
Strain specialization which has reduced market flexibility (most cultivators are only familiar with a handful of strains)
Difficulty in standing out (cultivators wish to create and distinguish premium brands)
Hortica's connected precision cultivation system addresses these challenges, decreasing risk, increasing yields, lowering operating expenses, and creating a foundation for sustainability and success.
Hortica's capabilities are based on sensors, machine-generated data, and IoT-based automated control systems. These capabilities enable growers to run their facilities automatically and autonomically, with unprecedented data, analytics, and insights. Hortica is also building the world's first Cannabis Precise Cultivation Database.
AES has developed a Connected Cultivation electronic control module for Hortica, through its Embedded Solutions group, which invented minIoT™ – a proprietary product family and platform leveraging a range of ultra-small, very low-power consumption versatile devices for IoT applications. These hardware devices are accompanied by a comprehensive suite of field-proven software drivers and applications, including a range of operating system choices and integrated with the highest industry security measures.
With advanced system set-up, management, monitoring, and Connected Field Service tools, Cloud of Things is providing connectivity orchestration capabilities enabling Hortica to securely register multiple devices and sensors to local mesh networks, collect data, support remote operations, and connect to automated control systems developed by AES (minIoT™ based) & Hortica to ensure the perfect mix of irrigation, nutrients, light, temperature, humidity and more.
"We are honored to be part of this important initiative and ecosystem partnership," said Avner Ziv, CEO of Cloud of Things. "By contributing to the rapid evolution of medical-grade cannabis, and supporting the efforts of growers to create and scale sustainable and profitable businesses, we are also contributing to access to alternative drug therapies which have the potential to improve care around the globe. We are proud to be chosen by Hortica and AES that leveraged our "Ready to Run" solution to quickly get "Cloud Native" with very little support. It has been a great experience working with the visionary and talented Hortica team, top experts in their fields, with a passion for their mission, which we now share."
"We are extremely excited to be part of this partnership and journey that revolutionizes how medical-grade cannabis is grown," said Gil Adar, CO-CEO of AES. "Hortica's vision is a great example where technology meets nature for the purpose of improving people's lives through better and smarter precise cultivation applications. It is incredible working with visionaries such as Hortica, who are passionate and innovative about the technology they are developing.
Working with them to bring such solutions to the market is hugely motivating, and we're delighted to see our partnership go from vision to reality."
Edge computing offers intriguing possibilities for precision agriculture, and high-end solutions applied to high-value crops, like pharmaceutical cannabis, make good economic sense. While Cloud-Edge concepts in agricultural systems are still nascent, Hortica's solution has solved for crucial issues of interoperability and scalability and, according to company officials, can be applied to any number of greenhouse applications for specialized crops commanding premium prices.
Originally published on Cloud Computing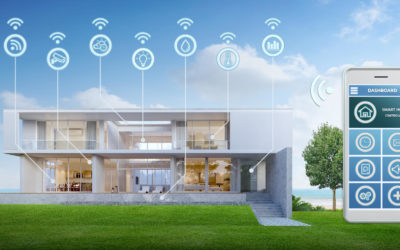 This week, Cloud of Things will be demonstrating the combination of our DeviceTone fully managed IoT cloud services gateway based on DSPG's ULE module at the International Security Conference & Exposition, also known as ISC West, which runs from July 19-21 at the Sands Expo in Las Vegas.
read more