Nordic Semiconductor Announces Cloud of Things has Selected Nordic's Advanced SOC Technology
Oslo, Norway – May 18, 2020 – Nordic Semiconductor today announces that Cloud of Things, a Tel Aviv, Israel-based Internet of Things (IoT) solutions company, has selected Nordic's nRF52840 Bluetooth® 5.2/Bluetooth Low Energy (Bluetooth LE) advanced multiprotocol System-on-Chip (SoC) to provide the wireless connectivity for its 'DeviceTone Genie' module. The DeviceTone Genie is a plug-and-play module designed for integration into any electronic product where the manufacturer wishes to introduce "production-grade" IoT capabilities and Microsoft Azure IoT Cloud support. For example, it could be used in lighting or utility metering applications to make luminaires or meters 'smart'. 
The 6 by 6cm module connects to a product via a UART, RS485, GPIO, or I2C interface, and comes pre-installed with a temperature sensor, GPS receiver, and Cloud of Things' 'DeviceTone Nano' firmware. Once the module is configured and provisioned via the company's Cloud-based DeviceTone Manager platform, the connected device is 'ready-to-run', and the user can immediately start sending data from the device to the Cloud. Platform users can configure and manage a range of features, for example execute scheduling tasks, set alert parameters, review analytics, and generate reports. Native support for Microsoft Azure IoT and IoT Plug & Play enables users to direct device data to their Azure IoT Cloud—either using a built-in cellular modem or via a gateway using Nordic Bluetooth LE wireless connectivity—providing the flexibility to integrate devices with other Microsoft tools such as Azure Stream Analytics and Microsoft Flow. 
The DeviceTone Nano software stack is built on Nordic's nRF5 SDK and includes peripheral, connectivity and power management layers. The layers are accompanied by nRF5 SDK-based drivers to ease the software development task. 
The Nordic nRF52840 SoC incorporates an Arm TrustZone CryptoCell™-310 cryptographic module and an AES 128-bit hardware accelerator. These features support a wide range of asymmetric, symmetric, and hashing cryptographic services offering end-to-end security for applications integrating the DeviceTone Genie module. In addition to best-in-class security, the nRF52840 SoC provides ample processing power and generous memory to handle the large volume of data generated by connected devices. The SoC combines a 64MHz, 32-bit Arm® Cortex® M4 processor with floating point unit (FPU), with a 2.4GHz multiprotocol radio (supporting Bluetooth 5.2, ANT™, Thread, Zigbee, IEEE 802.15.4, and proprietary 2.4GHz RF protocol software) with 1MB Flash memory and 256kB RAM.   
Nordic's nRF52840 is Nordic's most advanced ultra low power nRF52 Series SoC. The SoC supports complex Bluetooth LE and other low-power wireless applications that were previously not possible with a single-chip solution. A new radio architecture with on-chip PA provides features -95-dBm RX sensitivity (at 1Mbps Bluetooth LE), a maximum output power of 8dBm, and a total link budget of 103dBm. The chip supports all the features of Bluetooth 5.2 (including 4x the range or 2x the raw data bandwidth (2Mbps)) compared with Bluetooth 4.2. The SoC is supplied with Nordic's S140 SoftDevice, a Bluetooth 5.1-certified software protocol stack. The S140 SoftDevice offers concurrent Central, Peripheral, Broadcaster, and Observer Bluetooth LE roles, and supports high throughput and long range modes as well as advertising extensions.  
"The combination of Bluetooth 5.2 support, the advanced Arm Cortex M4 processor, superior power management, and a load of peripherals made the nRF52840 SoC the ideal choice for the DeviceTone Genie," says Eliav Gnessin, Cloud of Things, CTO. "The size of the Flash memory enables a complex application infrastructure, while the Arm TrustZone CryptoCell subsystem ensured we could include advanced security features as part of the solution. 
"Nordic also provided great technical support throughout product development. The Nordic DevZone proved to be an invaluable tool to get prompt support."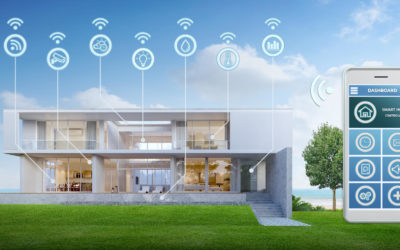 This week, Cloud of Things will be demonstrating the combination of our DeviceTone fully managed IoT cloud services gateway based on DSPG's ULE module at the International Security Conference & Exposition, also known as ISC West, which runs from July 19-21 at the Sands Expo in Las Vegas.
read more