CEO Interview: Cloud of Things Grants Wishes with Genie
Earlier this month, Cloud of Things, an IoT company based in Tel Aviv and Boston, announced a new CEO had taken the reigns, days before the company announced with Microsoft and Nordic Semiconductor that its software platform and plug and play edge device (called Genie) was added to the Azure marketplace. The news took many in the industry by surprise, given that Avner Ziv is well known in Israel and around the world as one of the top leaders in the fintech space, driving innovation for the Central Bank of Israel for the last five years as CIO and Director of the Board.
This is an unusual career pivot in and of itself, one we rarely see in the world of IoT which is both a relatively small, tight-knit community at the same time which has always been global since society began connecting things over the Internet twenty-plus years ago. Why would an expert in financial markets infrastructure, technology and cybersecurity make a move into IoT?
One major clue may have to do with his career prior to joining the bank. Ziv grew up through the ranks of the Israeli Army, rising to the rank of Colonel, and leading a 700 professionals elite technological unit. Ziv served as most young people do, but staying longer than most, with thirty years of service and a drive to driving innovation in military technology and security over a period of time where advancements, including the onset of the Internet, created serious challenges and threats.
What is the common thread? We caught up with Ziv and he explained his motivation in one word: mission.
"I've been very fortunate to be given the opportunities I have been, very fortunate to serve," Ziv said. "When I was in the Army, Israel was undergoing tremendous change, and the work we were doing to protect our country, our region and the world from terrorism drove us to work harder, work smarter and work with determination and commitment. These were intense times, but my fellow soldiers were up to the tasks, whether supporting military intelligence programs, combat troops, or humanitarian efforts."
Given what he calls an "endless curiosity" when it comes to technology Ziv left the military and vectored into a new life as CIO of the Bank of Israel made complete sense to him.
"Five years ago, in 2015, I was called to another mission, to strengthen and protect society in a different way, by ensuring the Israeli economy become even more robust, and competitive with advanced new services," Ziv said. "To do so, we had to assume responsibility of new fields that has never been done by the central bank. We have done so understanding that we're the only ones who has the power to do so. We promoted some new national-level market financial infrastructures like a central credit scoring system, and an Open Banking API standard program. Given the growing threat landscape, it was mission critical for the bank to implement the most sophisticated infrastructures and cyber security systems, policies and procedures to thwart attacks, and fortunately for us, Israel has many of the greatest minds and companies in the world when it comes to protecting all we connect."
This five-year period was spent on many major projects, Ziv met leaders across all market segments, and was exposed to the most disruptive ideas and latest technologies rising in the increasingly digitally transforming world.
"This was an intense and inspiring time in my life," Ziv said, "and an incredible honor to be able to contribute to society in new ways. After three decades of military service, I was able to see things through a more commercial, business lens and to understand and support the innovators who would lead in software, security, cloud, mobile, applications and above all – data. data analytics, AI and machine learning – to name a few. It became clear to me that connected systems held the potential to dramatically improve how we live, how we protect our communities, how we protect our planet and reverse damage to the environment."
His eyes open to new possibilities, Ziv was drawn to the IoT as he became more and more active in the Israeli tech community, and eventually crossed paths with Cloud of Things, a company started in 2016 by a team out of Ness Technologies, one of the leading IT firms in Israel.
"I was so impressed by the founders – David Chouraqui and Eliav Gnessin – and the more time I spent with them, the more I came to understand the real potential of IoT and the company's unique vision I could easily relate too – making IoT simple through automation and other advances," Ziv said. "What they had invented and were continuing to innovate was so unique and so directly addressed the hardest problems in IoT that it became clear Cloud of Things had built a powerful platform for improving life. I was sold, and today I am so honored to be part of their team – and leading a new mission."
The company, whose offerings include a ready-to-run IoT system, including the Genie device, which was a collaborative effort with AES, based on their minIot innovations self-provisions securely to networks, clouds and applications, earlier this week announced the availability of DeviceTone Suite on the Microsoft Azure Marketplace, an online store providing applications and services for use on Microsoft Azure.
IoT "Plug and Play" allows developers to get all IoT devices connected, up and running more easily, removing the resistance associated with hardware and software configuration steps.
The DeviceTone Genie is a plug-and-play module designed for integration into any electronic product when a brand wishes to introduce "production-grade" IoT capabilities, and secured connectivity to client's business applications. For example, it can be used in lighting or utility metering applications to make luminaires or meters smart.
"Who knows how far and fast we will go," Ziv said. "What I do know is that when we instrument everything from our water supplies to our transportation systems, when we can track and manage everything from food security to more efficient supply chains and logistics, and when we add sensors and cameras in public buildings and venues, we can protect people and even save lives. All this will require the kinds of discipline and policies I've had the opportunity to develop in both military and financial services settings, but as I have come to understand, when we connect the physical and digital worlds and do so with integrity and positive purpose, we can build a next-generation legacy. I have a lot to learn, and we have a lot to discover and do together – but I am 100% sure this is where I am supposed to be today, on a continued mission to simply make life better."
Originally published on IoT Evolution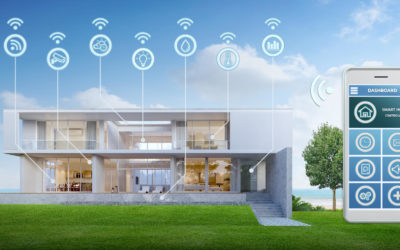 This week, Cloud of Things will be demonstrating the combination of our DeviceTone fully managed IoT cloud services gateway based on DSPG's ULE module at the International Security Conference & Exposition, also known as ISC West, which runs from July 19-21 at the Sands Expo in Las Vegas.
read more