Cloud of Things is a Tondo Smart group company

It is now possible to add connected services to mass-produced electronic products with DeviceTone's reliable, affordable, ready-to-run IoT suite. We've combined three breakthroughs into a single solution: 
1.A firmware agent that works with small, inexpensive controllers or sensors (tiny footprint)
2.Plug & play deployment features, that enables transforming any electronic product to an IoT connected device in a couple of weeks
3.Full after-sales features including billing, customer relationship management, field service enablement and more 
With an open architecture and plug-and-play approach, DeviceTone enables you to work with your hardware and cloud of choice, And it's so simple to add that we can build a prototype in a week, and scale to tens of thousands of connected end-points within a few short months. Working with partners, our experienced team makes it easy to get started and grow. With all the IoT options out there, learn why DeviceTone is the most sensible option. 
Cloud of Things offers a range of Ready-to-Run devices through DeviceTone IoT Suite, including gateways and Plug and Play modules, while providing custom firmware development of edge devices for manufacturers.
Ready-to-Run IoT Software
Today, product companies must connect their products to unlock business value and remain competitive. But until now, product manufacturers and service providers have found that connecting products to the IoT network is time-consuming, costly, and filled with technology and business risks. DeviceTone is a ready-to-run IoT solution that makes it quick and simple to create smart connected products.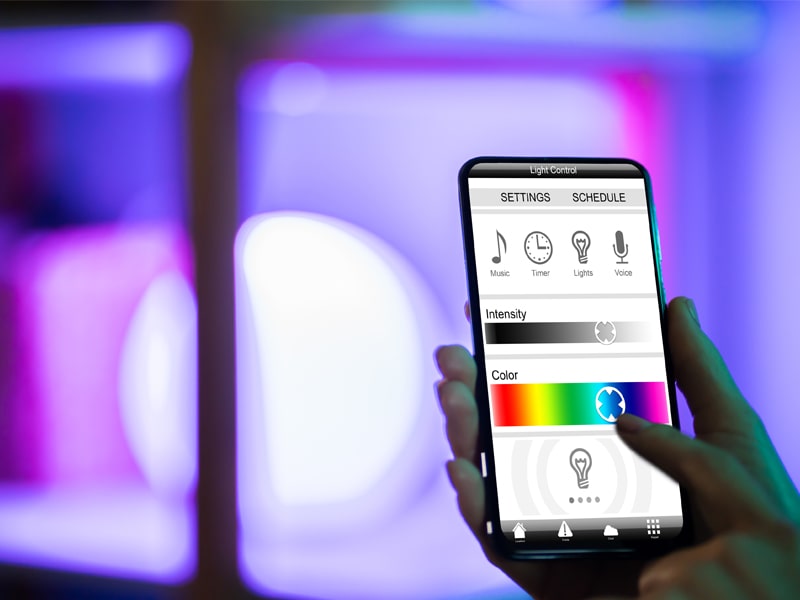 Cloud of Things full suite of open, secure cloud-based Connected Field Service solutions are available on Microsoft's Azure Marketplace, including the DeviceTone® Genie, an intelligent, ruggedized multipurpose device with zero-touch provisioning software built in. Within minutes, connected systems can be set up using Cloud of Things configuration tools; over time, updates to the firmware in the device can be made automatically, simplifying the entire life-cycle, reducing time to market and ongoing operating expenses.
Securely Connect Any Set of Devices with a Full Stack Solution on Azure IoT
DeviceTone Suite for Azure IoT provides a full-stack, ready-to-run IoT solution with a multitude of options including DeviceTone Genie plug and play hardware, open APIs and customizable device management dashboards.
Quickly build a scalable, secure IoT solution that allows you to keep your own proprietary IP, mitigate your project costs or risk, and shorten your time to market.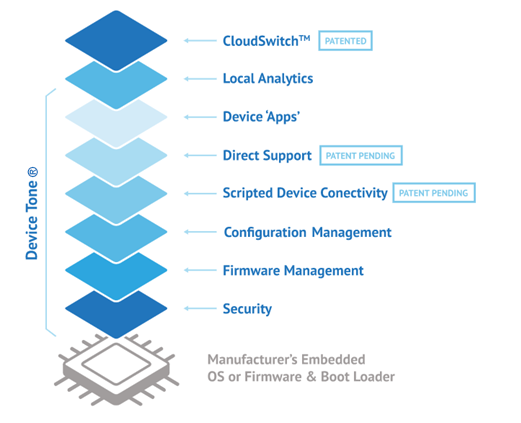 Simplify connected product development
Extensive cyber security multi tier shield
Easily achieve end-to-end IoT solution (Edge-Cloud)
Three Step Implementation
Select your edge connectivity method
Select your preferred edge device from our catalog
Install our Plug & Play edge devices
Use our wizard to self-provision your IoT cloud environment
Configure our CRM connector
Onboard your devices, using our auto-provisioning features
Achieve end-to-end security
Three Step Implementation
Select your Edge connectivity method
Select your preferred Edge device from our catalog
Install our Plug & Play edge devices
Use our wizard to self-provision your IoT cloud environment
Configure our CRM connector
Onboard your devices, using our auto-provisioning features
Achieve end-to-end security
DeviceTone® Genie
IoT Hardware Plug and Play Module
DeviceTone Genie is a Plug and Play hardware module, with DeviceTone agent running on it. DeviceTone Genie easily plugs into almost any electronic product using 4 optional hardware protocols: UART / GPIO / I2C / RS485. Optional long life battery powered. Comes with protocol-specific security support. 
DeviceTone® Manager
SaaS Management Platform
DeviceTone Manager is a unique connected-device management platform. Key capabilities include firmware management, device configuration, provisioning, monitoring, analytics, reporting and security. Offered as a SaaS, DeviceTone Manager enables users to manage connected devices one to one or millions at a time.
CloudSwitch™
Cloud of Things CloudSwitch is Cloud of Things' patent-registered multi-cloud technology. CloudSwitch is a future-proof technology that allows IoT-connected products to work with any cloud infrastructure and switch between them as needed. The future-proof technology guarantees high availability and unrivaled flexibility – any hardware, protocol or cloud selected today can be replaced with the latest technologies tomorrow.
CRM Connector
Configurable Connector to CRM Systems
Cloud of Things CRM Self-service connector is a customizable software service, connecting Cloud of Things devices with common CRM Self-service applications like Microsoft Dynamics 365, or Salesforce. With only a few clicks you can create a flow of actions between Events happening on the Edge and tickets/cases opened in the Field-Service application.
Supporting the move toward open standards and interoperable solutions, DeviceTone endorses
and takes an active role at selected industry bodies.

United States
233 Needham St., Suite 450, Newton, MA 02464
Tel: +1-857-636-1332
Israel
22 Isserles St., Tel Aviv 6701457
Tel: +972-3-775-6888 / Fax: +972-3-940-8585