Connect your products to Azure with a full stack, end-to-end IoT solution.
Be the first to market with a successful IoT offering
Use our DeviceTone™ Genie to embed full production-grade IoT  capabilities into your products in a matter of days. Our Genie  modules allow you to securely connect your products to the Azure  IoT suite, deploy and scale – with the fastest time-to-market.
The DeviceTone® Genie family of products includes:
Genie Field Service, based on the Nordic nRF52840
Genie Power edge-computing module based on i.MX 8M Genie IoT Gateway, based on the Cortex-A9 800 Mhz

All Genie products include BLE and cellular connectivity.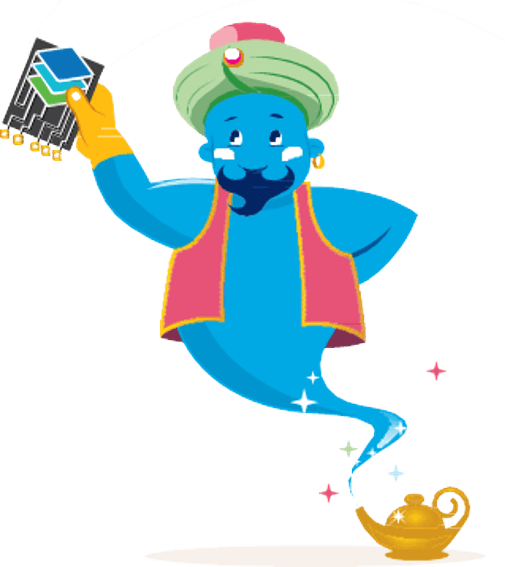 Connectivity – easily connect any  device to your selected IoT private  cloud; open APIs for the customer to  connect your devices to business  applications.

Data – easily expose product data  and  receive data and commands from  external management systems/business applications.

Device fleet management – full  lifecycle management and firmware  rollout for thousands of devices.

IoT Made Simple
Plug and play – firmware makes your  design smart and connected instantly.

Failsafe FOTA – firmware updates,  package and configuration rollout  manager.

Highly secured – encryption &  certificate management.

Auto-commissioning – cloud  onboarding mechanism.

Robust, Production-Grade
Easily embed DeviceTone Genie into  any product, using standard interfaces.

Connect any device to your private  Azure cloud environment, with our  CloudSwitch™ solution.

Bring Your Own Hardware (optional)  Implement the DeviceTone Nano  firmware SDK on your Nordic chipset  modules or embedded Linux.

End-To-End Security
Connectivity – easily connect any  device to your selected IoT private  cloud; open APIs for the customer to  connect your devices to business  applications.

Data – easily expose product data  and  receive data and commands from  external management systems/business applications.

Device fleet management – full  lifecycle management and firmware  rollout for thousands of devices.

IoT Made Simple
Plug and play – firmware makes your  design smart and connected instantly.

Failsafe FOTA – firmware updates,  package and configuration rollout  manager.

Highly secured – encryption &  certificate management.

Auto-commissioning – cloud  onboarding mechanism.

Robust, Production-Grade
Easily embed DeviceTone Genie into  any product, using standard interfaces.

Connect any device to your private  Azure cloud environment, with our  CloudSwitch™ solution.

Bring Your Own Hardware (optional)  Implement the DeviceTone Nano  firmware SDK on your Nordic chipset  modules or embedded Linux.

End-To-End Security