The Intelligent Edge Just Got Smarter: DeviceTone's Full Managed ULE Gateway Meets DSP Group's ULE Module Empowering IoT Innovation
This week, Cloud of Things will be demonstrating the combination of our DeviceTone fully managed IoT cloud services gateway based on DSPG's ULE module at the International Security Conference & Exposition, also known as ISC West, which runs from July 19-21 at the Sands Expo in Las Vegas.
The annual event brings together thousands of security & public safety professionals, with an exhibition of the latest technologies in Access Control & Visitor Management, Video Surveillance, and Alarms & Monitoring, Emergency Response, and Public Safety, with a growing emphasis on emerging solutions in IT/IoT Security, Smart Home Solutions, Drones & Robotics, and more.
After collaborating with DSPG for many years, in 2021, we are especially excited to bring to the market a fully managed IoT Cloud Services gateway based on DSPG's DHAN-M ULE Module.
ULE supports an advanced family of low-power system-on-chip (SoC) and modular chipset products that provide greater range outdoors and superior coverage indoors, robust and secure RF channels, and a star network topology that eliminates the need for repeaters and makes it possible to connect devices at scale that run from one central hub.
Why focus on ULE?
This IoT protocol brings with it a high bitrate supporting not just data but two-way voice and video, enabling an increasing number of applications that connect things and people, and can be controlled through voice activation, while also supporting the "visual" IoT and emergency two-way conversations in applications such as security and home healthcare monitoring.
An enterprise-grade device, this new intelligent edge IoT Gateway securely collects sensor and equipment data from the edge of the network for localized or cloud-based analysis, relying on ULE for reliable, interference-free, full-coverage wireless communications throughout homes, offices, schools, hospitals, factories, and more.
Along with DSP Group's highly integrated, fully certified DHAN-M ULE module, this game-changing DeviceTone fully managed gateway features a fanless design, uses an embedded OpenWRT OS, has a Secure U-Boot boot loader, fail-safe FOTA, and two Ethernet ports and Wi-Fi connectivity, all in a box measuring 82 x 82 x 30 mm, and weighing only 220 grams.
ULE adds reliable, interference-free operation, wide coverage, low power, and high quality-of-service (QoS), and in partnership with DSPGS, we offer developers a simplified connected product development cycle and faster time-to-market for scalable IoT sensor networks for cloud application services.
Managed Edge Computing
The DeviceTone IoT Gateway is a next-generation edge device designed to securely collect, analyze and relay data from diverse sensors and equipment at the edge of the network to enable a wide range of IoT use cases. Our gateway delivers open and cost-effective connectivity combined with powerful edge analytics and offline rules in a fully managed package to help you deliver transformational solutions quickly and affordably.
Cost-Effective
Engineered from the ground up as an affordable enterprise-grade form factor device, our DeviceTone gateway provides system integrators, solution providers, manufacturers, and others across the IoT ecosystem with everything they need for secure and managed connectivity, allowing them to connect any combination of systems and sensors to any enterprise network or cloud service. The integrated suite of DeviceTone services simplifies connected product development and accelerates time to market with tools that make it easy to connect your products to your IoT cloud and manage them at scale.
Flexible & Open
Headless, fanless, and around 200g, the gateway is compact and adaptable to almost any IoT situation. Its advanced modular design means the gateway can easily be configured to meet the specific needs of your dynamic business environment.
Developers choose the capabilities they need based on the use case. Integrated capabilities include a full-function router with DHCP, NAT, VPN, and firewall, with Ethernet, Wi-Fi, and ULE connectivity, based on DSPG's ULE module.
Expansion ports for digital, serial, and USB connectivity ensure open and flexible expansion possibilities. Optional field-installable USB communications modules deliver plug-and-play support for GSM/LTE/NB-IoT, Bluetooth, and others. An internal SD slot makes it easy to dynamically match local storage to each developer's specific needs.
Connectivity
Integrated support for today's leading IoT protocols means the DeviceTone gateway is ready to work with thousands of IoT sensors and controls. To help accelerate development even further, DeviceTone has pre-integrated a variety of devices to make delivering high-value use cases a fast and easy out-of-the-box experience.
A Brilliant Partner!
DSP Group®, Inc. (NASDAQ: DSPG) is a leading global provider of wireless chipset solutions for converged communications. Delivering semiconductor system solutions with software and reference designs, DSP Group enables OEMs/ODMs, consumer electronics (CE) manufacturers, and service providers to cost-effectively develop new revenue-generating products with fast time to market.
At the forefront of semiconductor innovation and operational excellence for over two decades, DSP Group provides a broad portfolio of wireless chipsets integrating DECT/CAT-iq, ULE, Wi-Fi, PSTN, HDClear™, video, and VoIP technologies.
DSP Group enables converged voice, audio, video, and data connectivity across diverse mobile, consumer, and enterprise products – from mobile devices, connected multimedia screens, and home automation & security to cordless phones, VoIP systems, and home gateways. Leveraging industry-leading experience and expertise, DSP Group partners with CE manufacturers and service providers to shape the future of converged communications at the home, office, and on the go.
Please Drop By!
We will be demonstrating this advanced, fully managed IoT ULE Gateway in booth #14099 at ISC West today through Wednesday (July 19 – 21). Contact me for more information at avner.ziv@cloudofthings.com.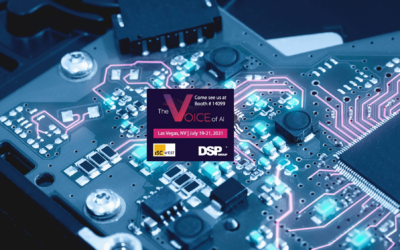 DSP Group, Inc. (NASDAQ: DSPG), a leading global provider of wireless and voice-processing chipset solutions for converged communications, and Cloud of Things, a developer of solutions around its DeviceToneTM technology that quickly and efficiently make products smart, announced that they will be using the upcoming ISC West trade show in Las Vegas, NV to demonstrate a fully managed Internet of Things (IoT) gateway based on ULE. An enterprise-grade device, the CoT Smart IoT Gateway securely collects sensor and equipment data from the edge of the network for localized or cloud-based analysis, relying on ULE for reliable, interference-free, full-coverage wireless communications throughout the home or office.
read more