IoT gateways have been fundamental to early IoT architectures, but as we continue to move closer to the edge, and compute more at the edge, gateways need to evolve. For IoT edge deployments, gateways also need to be more affordable, and more easily integrated into the physical world where space is at a premium.
IoT gateways bridges different networks that allow IoT-generated data to travel to the cloud, connecting sensor-based end-points and other devices on Local Area Networks (LANs) then aggregates traffic and passes it along to applications for data-processing, typically "in the cloud" but also to private processing servers that are more local, and therefore perform with less latency (as trips to the cloud can slow down systems requiring real-time or near real-time processing to work).
Changing demands for greater computing power at the edge, cybersecurity threats, and new business models are changing the way Operations Technology (OT) and Information Technology (IT) are working together, and this is driving revolutionary R&D in next-generation IoT gateways, like the one Cloud of Things has developed.
Historically, IoT gateways were really servers housed in new form factors that could withstand difficult weather or other conditions, designed to pull data from connected machines, controllers, or other elements in, for example, a smart manufacturing plant. This data, for decades, has been pumped into the digital IT world, to a data center or cloud, where storage, analytics, reporting, and other services take place.
These "cloud" gateways will always be important, but it is also essential to move to the next generation of IoT gateways – which are more adaptable, less expensive, and more open to multiple applications (and able to route data to multiple clouds), which defines our unique gateway.
The DeviceTone IoT gateway is an affordable, fully managed and extensible solution, designed for new, managed IoT edge computing solutions.
The DeviceTone IoT Gateway is a next-generation edge device designed to securely collect, analyze, and relay data from diverse sensors and equipment at the edge of the network to enable a wide range of IoT use cases. The DeviceTone IoT Gateway delivers open and cost-effective connectivity combined with powerful edge analytics and off-line rules in a fully managed package to help enterprise and the service providers they work with deliver transformational solutions quickly and affordably.
Engineered from the ground up as an affordable enterprise-grade form factor device, the DeviceTone IoT Gateway provides everything necessary for secure and managed connectivity – allowing developers to connect any combination of systems and sensors to any enterprise network or cloud service. The integrated DeviceTone IoT Suite simplifies connected product development and accelerates time to market with tools that make it easy to connect your products to IoT clouds and manage them at scale.
Our gateway is compact and adaptable to almost any IoT situation. Its advanced modular design means the gateway can easily be configured to meet the specific needs of the most dynamic business environment.
One of the distinct advantages of the DeviceTone IoT gateway is our integrated (and patented) CloudSwitch technology that directs IoT data from the gateway to the customer's private IoT cloud, for example, their instance on Azure. (Earlier this week we announced our DeviceTone IoT Suite is available there).
Another important feature we offer, unlike any other IoT software platform, is the parent-child managed hierarchy in which each IoT gateway can manage many wired or wireless "children" devices.
DeviceTone technology enables FOTA both for the gateway and its "children" devices, over non-IP networks including BLE Long Range, Wirepas, ZigBee, or ULE – as well as IP networks including Cellular, LAN and WiFi. In addition, the two mikroBUS extension slots enable the insertion of any 3rd party RF modules.
Two more very important features are the "Automatic cloud commissioning" both for the gateway and children sensors. The installation in the field is fully automated, so no special IoT or networking skills are needed.
With this advanced "zero-touch" approach, our clients simply connect the gateway to electrical power, and it auto-commissions each device to the relevant project/cloud instance. This saves time in mass deployments and is part of what we mean when we say we make IoT simple!
Another great feature is our fail-safe FOTA and firmware rollout manager that can update gateways and sensors by groups, geography, and more.
Integrated capabilities include a full-function router with DHCP, NAT, VPN, and firewall, with Ethernet, LTE/CATM/NB-IoT, BLE Long Range, Wirepas, ZigBee and ULE connectivity.
The DeviceTone IoT Gateway is based on Cortex-A9 800 MHz processor and has 256 MB RAM, Flash (eMMC) 2GB, and internal LTE/CATM/NB-IoT cellular modem, 2xMikrobus extension, 6xUART, 3xSDIO, 32xGPIO, 3xI²C, 4xSPI, 2xUSB, 1xLAN, and an internal SD slot makes it easy to dynamically match local storage to your specific needs.
Our gateways, combined with our software platform, are making IoT projects simpler to develop, manage, and grow. For more information or a demo, feel free to contact me @ david@cloudofthings.com.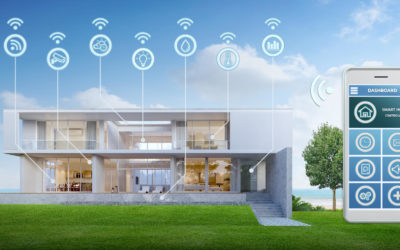 This week, Cloud of Things will be demonstrating the combination of our DeviceTone fully managed IoT cloud services gateway based on DSPG's ULE module at the International Security Conference & Exposition, also known as ISC West, which runs from July 19-21 at the Sands Expo in Las Vegas.
read more